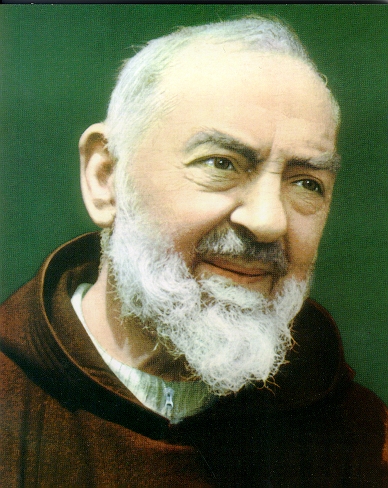 Today we celebrate the feast of Padre Pio of Pietrelcina. For a short biography of this saint please refer to this
link
.
It is best that we read some of the words of this saint and let them stir in us a love for God.
In my greatest sufferings, it seems to me that I no longer have a mother on this earth, but a very compassionate one in Heaven.

Remember that God is within us when we are in a state of grace and outside of us when we are in a state of sin; but His angel never abandons us. . . He is our most sincere and faithful friend even when we sadden him with our bad behavior.

Prayer is the best weapon we possess. It is the key that opens the heart of God.

You must always humble yourself lovingly before God and before men, because God speaks only to those who are truly humble and He enriches them with His gifts.
Humility and purity are the wings which carry us to God and make us almost divine.

Hold on tightly to the Rosary. Be very grateful to the Madonna because it was she who gave us Jesus.

Love our Lady and make her loved; always recite the Rosary and recite it as often as possible.

Imagine Jesus crucified in your arms and on your chest, and say a hundred times as you kiss His chest, "This is my hope, the living source of my happiness; this is the heart of my soul; nothing will ever separate me from His love."
If only we read these words and observe them how much we will gain in our journey to the Father's house.