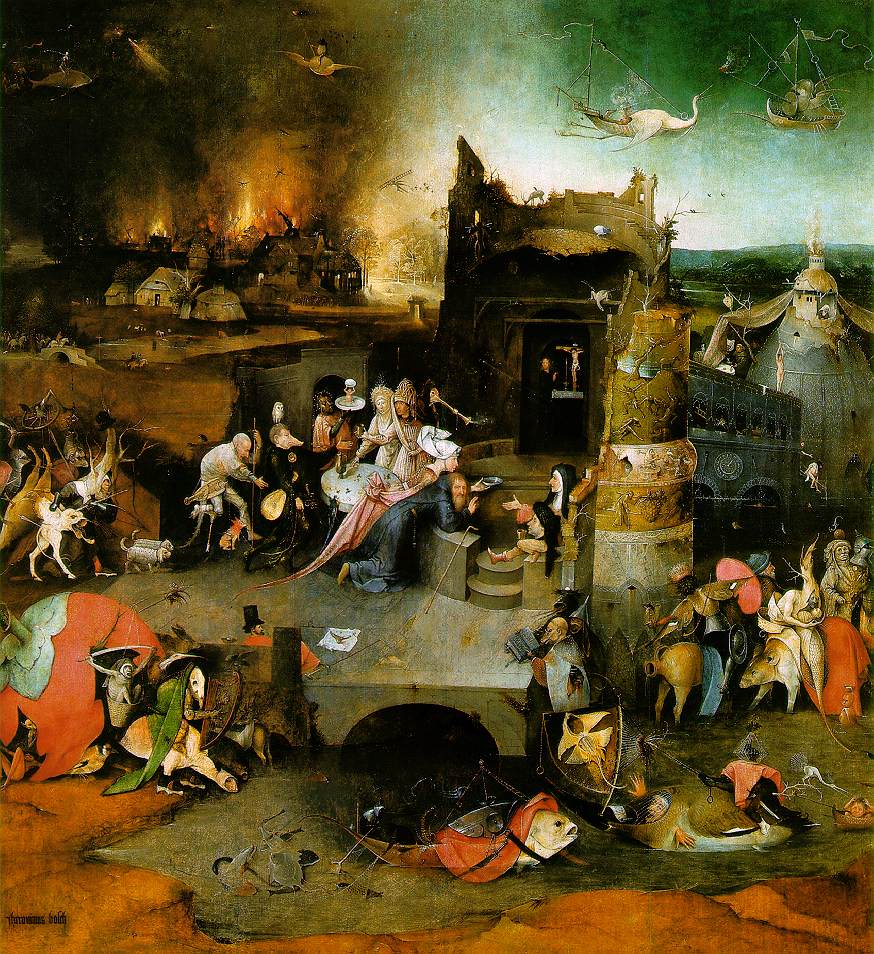 (
The Temptation of St. Anthony
(ca. 1500) by Hieronymous Bosch (1450-1516)
St. Anthony was born in 251 in a small village in Egypt. When he was twenty years old, his parents died. They left him a large estate and placed him in charge of the care of his younger sister. Anthony felt overwhelmed and turned to God in prayer. Gradually he became more and more aware of the power of God in his life. About six months later, he heard this quotation of Jesus from the Gospel: "Go, sell what you own and give the money to the poor, and you will have treasure in heaven" (Mark 10:21). He took the words as a personal message in answer to his prayer for guidance. He sold most of his possessions keeping only enough to support his sister and himself. Then he gave the rest of the money to people who needed it.
Anthony's sister joined a group of women living a life of prayer and contemplation. Anthony decided to become a hermit. He begged an elderly hermit to teach him the spiritual life. Anthony also visited other hermits so he could learn each one's most outstanding virtue. Then he began his own life of prayer and penance alone with God.
When he was fifty-five, Anthony built a monastery to help others. Many people heard of him and sought his advice. He would give them practical advice such as: "The devil is afraid of us when we pray and make sacrifices. He is also afraid when we are humble and good. He is especially afraid when we love Jesus very much. He runs away when we make the Sign of the Cross."
St. Anthony visited Paul the hermit whose feast is celebrated on January 15. He felt enriched by the example of Paul's holy life.
At 60, he hoped to be a martyr in the renewed Roman persecution of 311, fearlessly exposing himself to danger while giving moral and material support to those in prison. At 88, he was fighting the Arian heresy, that massive trauma from which it took the Church centuries to recover. "The mule kicking over the altar" denied the divinity of Christ.
Anthony is associated in art with a T-shaped cross, a pig and a book. The pig and the cross are symbols of his valiant warfare with the devil—the cross his constant means of power over evil spirits, the pig a symbol of the devil himself. The book recalls his preference for "the book of nature" over the printed word. Anthony died in solitude at 105.